Yoga Teacher & The Centre Founder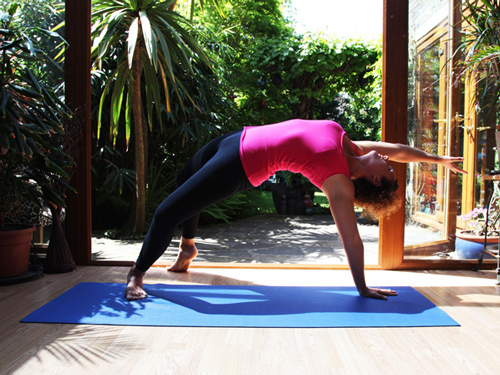 Emma is the founder of The Centre and is passionate about sharing the power that yoga and shiatsu has had on her life.
Yoga
I took my first yoga class when I was 17, and over the last 20 years my mat has been a source of comfort and support. Living in London for 33 years gave me access to train and learn with some of the top teachers in the world. I was able to try a huge variety of styles and approaches. It was a great experience and as often as I can, I travel back to London to top up my trainings.
My first teacher training was in Sivandana yoga. I used to live near the Sivandana centre in London and enjoyed the classes that I attended so once I quit my stressful, but successful project manager job in television, I headed to to India. I was there for three  months, one of which I spent in an Ashram in Maduri, living and studying the yogic life. It was a great experience, and led to a 200 hour yoga teaching qualification.
2 months later I tried my first Anusara class at the Yoga Barn in  Ubud, Bali. From the first class I noticed a change in me; The more I practiced, the more that surges of empathy would overwhelm me. The physical and philosophical principles of Anusara have helped me to be braver about opening my heart, through the good times, and the bad.
A year later I started my second 200 hour yoga teaching qualification In Anusara. By this point I had moved to Cyprus and was teaching and giving Shiatsu, but every month I would fly back to London to train with my teacher Bridget Woods-Kramer at the renowned Triyoga studio.
Just as I was coming close to completing the Anusara Elements teacher training I met Anna Zorzou. She invited me to join the YogaWorks teacher training that she was running in Cyprus. I knew the standard of the YogaWorks training, and had trained with a few of the teachers, and just couldn't turn down the opportunity to study with Anna. 7 months later I completed my third 200 hour Yoga teaching qualification. My lates qualification is in Perinatal Yoga with the Birthlight Trust. I am a fully qualified Birthlight Pregnancy and Postnatal yoga teacher and also teach these classes weekly at The Centre.

Shiatsu
I've always been interested in massage. I would fell great after giving my friends and family massages, seeing how relaxed and comfortable they felt from my prodding and pressing. I learnt how to give indian head massages, when I was in Thailand and I fell in love with it. After the first couple of massages I decided it was something I wanted to learn more about, so I travelled to Chiang Mai and got a Thai massage qualification from the Old Medicine Hospital. 
I kept it up whilst studying my Psychology degree (BSc HONS) and when I finished I enrolled in a shiatsu introduction weekend at the British School of Shiatsu. I loved it; I loved it so much I continued with the course and 3 and a half years later I qualified as a shiatsu practitioner. The techniques where fun, and the theory was fascinating. It was a higher standard of body work that I'd done before, and have done since. We where taught techniques of how to develop our sensitivity for feeling energy, we studied anatomy, we studied Chinese medicine, it was philosophical, it was psychological, it was creative and most of all it worked.
For about three years after I got my qualification I assisted at the school and occasionally taught there. I did some further studying in Japan with a shiatsu master and in the UK with Saul Goodman, man who founded the first shiatsu school in England, whilst offering Shiatsu part time. Finally I moved to Cyprus in 2013 and have been working as a shiatsu practitioner and yoga teacher full time, since then...and loving it.